Camellia Sprout Stimulating Scalp + Strand Oil
$

4.00 Sold Out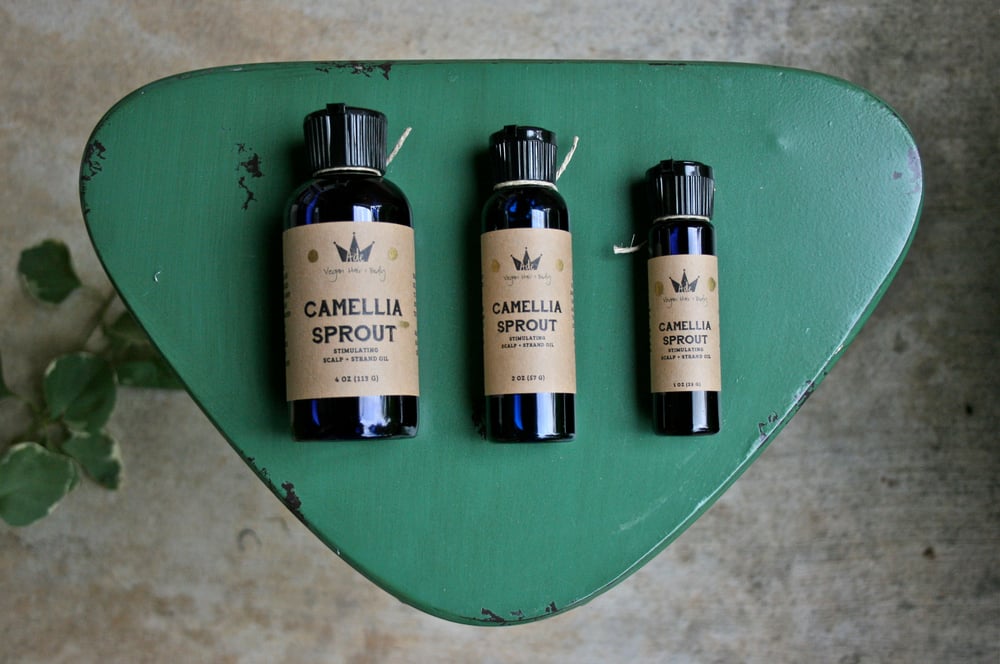 This stimulating blend of oils is packed with essential fatty acids and vitamins that help create the ideal environment for maximum hair growth and retention.
Key Ingredients Include:
Camellia Seed Oil - Also known as tea oil, it easily penetrates the hair shaft nourishing it with omega-9 fatty acids, polyphenols, vitamin E, and even plant collagen and proteins. With high emollient and antioxidant properties this oil has a higher essential fatty acids content than even olive oil! These beautiful little fats work to hydrate your tresses and increase elasticity.
Mustard Seed Oil - This vibrant yellow oil is packed with sulphur which helps it to combat hair loss and baldness as well as treat dry and damaged hair. It prevents scalp infections by inhibiting fungal growth and keeping it hydrated. This oil is a rich source of minerals and vitamins. Minerals such as selenium, zinc, and beta-carotene are present in plenty in this natural oil.
Wheat Germ Oil - Wheat germ oil is a rich, unrefined oil with a thick texture. It contains a host of vitamins that benefits the hair and scalp including vitamin A, E and D, as well as a number of B vitamins – B1, B2, B3 and B6.
Turmeric Essential Oil - This is an anti-microbial oil rich in antioxidants, high in antiseptic and antibacterial properties. Known to help in preventing hair loss, especially male pattern baldness. This action is also attributed to its anti-oxidation and anti-inflammatory properties.
Carrot Seed Oil - Carrots are a healthy root vegetable rich in vitamins, copper, manganese, potassium, beta-carotenes and biotin, one of the vitamins essential for healthy hair growth. It is rich in vitamin A, which has been used for many years as a hair growth treatment which can regenerate and stimulate the hair follicles. Also rich in carotenoid which boosts sun protection, especially when paired with the vitamin E and rosehip oil.
Vitamin E Oil - Helps improve blood circulation, when blood circulation is improved hair growth is improved as well.
Ingredients: Mustard seed oil, aloe vera oil, hemp oil, camellia seed oil, wheat germ oil, oat oil, jamaican black castor oil, rosehip oil, vitamin E oil, essential oils of turmeric, lavender, jasmine, carrot seed, lemongrass and geranium.
<3 All products are handmade by me with love <3
Share